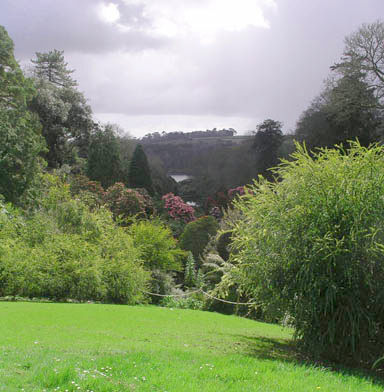 Trebah, view from top of valley
Garden visit:
Trebah Garden
Mawnan Smith, near Falmouth
The gardens are set in a steep-sided valley, so they benefit from the sheltered environment. There are spectacular views across the valley and down towards the sea. The valley creates perfect accoustics for birdsong.
Trebah's first plantings were made by Charles Fox in the 1840s, so the oldest trees are over 160 years old. The combination of shapes - huge trees, succulents, bamboos, palms - with colourful banks of flowering rhododendrons, azaleas, camellias and magnolias, is quite stunning. There are big, theatrical spaces across the valley, punctuated by upright forms like the famous Chusan Palms. Hidden paths lead off through the jungle of bamboos and succulents and there are mysterious signposts like "Tarzan's Camp" for children to investiage.
When I visited in spring, the Gunnera were just beginning to shoot, with strange, upright shapes looking like Windham's triffids, whilst tiny violets and celandine flowered along the edges of the paths. The Trebah stream flows down through ponds and a lake with Koi carp, before finally flowing down to the sea. The path winds down the valley to Trebah's own beach, which is an ideal place to eat a picnic, or for grown ups to sit while children play.
The facilities are excellent. The Planter's Cafe is spacious, and its timbered design fits in well. They sell good food at sensible prices. Try their homemade soups: their celery and apple soup with crusty brown bread went down very well when I was there. There is a Garden Shop with a good selection of plants at reasonable prices; and also a Gallery Shop with prints, books and gifts
Any time is a good time to visit, but especially in May for the magnolias. Trebah is a splendidly wild and exuberant place.
Opening Times
Open daily, 10.30am to 5.30pm (last admission).
Tel. 01326 250448