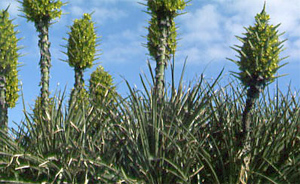 Puya chilensis
Growing Succulents in Cornwall
by
Ian Facey
Ian Facey is the Chairman of the Cornwall Branch of the British Cactus and Succulent Society and the only founder member left. The Branch was formed in 1969 and they hold their Annual Show at Penzance. He is also the Zonal Representative for the Society, covering an area from Cornwall to Somerset. He has been growing cacti and succulents for over 40 years and got the interest from his father, who was the Head Gardener at Trevince for over 50 years. He has recently started his own business as a gardener, having worked in an office environment for the last 40 years! He also give talks on cacti and succulents to various clubs and societies throughout Cornwall.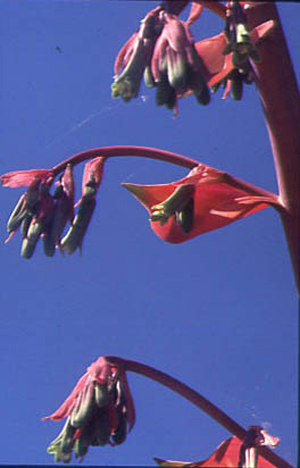 Beschorneria yuccoides
Nowadays, when visiting gardens in Cornwall, one is not surprised to see a number of plants, mainly succulents, which are now grown to form a Mediterranean type of feature. This seems to have happened over the last few years, mainly due to Gardening programmes on the television, and also to the dedication and bravery of our local gardeners to try something new outside. The main thing in growing these plants outside in our gardens, is to get the conditions right, by making sure that the plants have enough drainage and are planted in the right place, preferably facing south on a slope. They need a great deal of drainage, so dig in a large quantity of gravel to a depth of approximately 18 inches to make it very free draining, taking the rain away from the plant and not leaving it in a boggy place. I live almost mid-way between the north and south coast, on the south side of Carn Marth at Gwennap, and am able to grow quite a few succulents outside in my garden, without protection. I have friends who actually live on Carn Marth, about a mile away from me, who are able to grow many more succulents outside without protection, mainly due to the fact that they get very little frost, but much more wind. These include, to name but a few, Aeoniums, Aloes, Agaves, Beschorneria, Echeveria, Yucca, Fasicularia, Puya - the last two being Bromeliads.
If, like me, you visited Falmouth in June last year, when we had the very hot spell, you would have noticed on the sea front Puya chilensis in full bloom, I counted 27 flower spikes on the plants; they looked superb, and the local birds were really enjoying the supply of nectar and pollen. It's strange how local birds adapt to alien plants! Also, near the Puyas are a number of Agaves and Aloes planted in the flower beds, and these also flower on a regular basis. The Agaves are monocarpic, which means when they flower, they die, which I think should be pointed out to would-be customers at local garden centres. I have seen on the description of plants for sale, that the plant has a lovely yellow flower, it does not tell you how long you have to wait for this flower, and it certainly does not tell you that after the plant has flowered, it dies!! This can leave a very big space in your flower bed or garden design, as not all species of Agave offset (i.e. leave more plants to come along afterwards).
When planting succulents outside, it is always better to plant the biggest possible as the plant will have more chance of survival. This is not always kind to the pocket as bigger plants cost more pennies, but if you are dedicated and want a stunning garden, you will find the money to do so. I often say to people, tongue in cheek, that I must have the most expensive compost heap in the county, but it certainly doesn't put me off buying and growing on more plants, as it is only with this type of experimentation that in the end we find out which plants will or won't grow outside in our gardens!
I belong to the Cornwall Branch of the British Cactus and Succulent Society and a number of our members are to the forefront in experimenting with growing plants outside in their gardens. As I have previously mentioned, I am at Gwennap; I have friends who live on Carn Marth, we also have members in Threemilestone, Marazion, Penzance and Redruth who have and are growing succulents outside without protection. The number of species of plants seems to grow every year, so is it 'global warming' or are we just getting better at growing these plants! - who knows? Anyway, here are a few of the plants that I would recommend to you to try outside, given the conditions that I have described earlier. Of course, you can always grow these plants in pots if you do not have a big garden.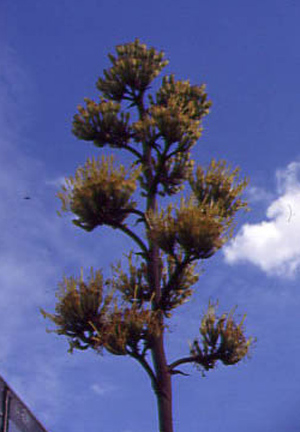 Agave americana
Beschorneria yuccoides
A wonderful plant if you want impact in the garden, grows to about six feet tall and wide, so needs room, but has lovely blue-green leaves and the flowers are spectacular, having a long stem to about 4' and panicles of flowers, with reddish bracts and pendulous bright green flowers. This species is polycarpic in that the rosettes do not die after blooming as they do in Agave.
Agave americana
This plant is often seen in Cornish gardens, in its green form and also variegated form. It is also called 'The century plant' which infers that it will only flower after one hundred years; this fortunately, is not the case, but it will take a while to flower, say 30 to 40 years in this country. The flower stem can reach 15 to 20 feet and has branches which bloom on the upper half of the stalk. The flowers are yellow and as previously stated the plant will die after flowering. This plant is often seen in flower in the Mediterranean countries. Other Agaves worth growing are:- victoria-reginae, which has white markings on the leaves, schidergera, which has fine white filaments attached to the leaves, parryi, which has powdery blue leaves.
Aloe striatula
This aloe is as tough as old boots, so is highly recommended. It has stems to approximately two feet long with dark green, leathery leaves, and the flowers are a lovely yellow shade, flowering in the summertime. It also grows well from cuttings. Other Aloes worthy of note are:- cooperi, ecklonis, immaculata, greatheadii, pratensis, ferox, plicatilis and polyphylla. I have seen all these Aloes growing outside in Cornwall without protection.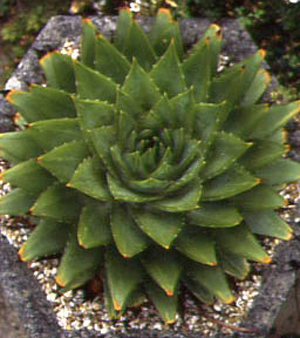 Aloe striatula
Other succulents worth trying include of course - probably the most common succulent in gardens - the Yucca, which comes in a variety of forms, and has superb white flowers, but usually get spoiled as they flower somewhat late in the year! Hesperaloe parviflora has leathery grass like leaves and lovely flowers from dark carmine-red to coral and pink to pale cream and bright yellow, so quite a range of flower colour. Furcraea are also worth trying but need a bit more protection, I find, but have fantastic flower spikes. Echeveria are rosette forming and come from Mexico, and have pretty yellow/orange bell-shaped flowers.
As previously mentioned, the Puya chilensis that were flowering at Falmouth last year are Bromeliads. Other bromeliads worth growing are Ochagavia carnea, which looks similar to a Puya, but instead of having very tall flower spikes, has very small, ball shaped flowers, approximately two and a half inches in diameter, with small pink bracts, lavender flowers and pronounced yellow stamens. It also has attractive silver leaves. It is well worth growing if you can get hold of it. Also try Fascicularia bicolour and F. pitcairnifolia: these are similar in leaf, but have bright red centres when coming into flower, which make them particularly attractive as the flowers are usually blue.
I have tried some cacti outside with varied success, some that should be hardy are:- Maihuenia which come from Chile and look similar to Opuntia, various Opuntia, some of the columnar cacti, Oreocereus, Cleistocactus. Some Echinocereus and Rebutia are also hardy. All would need the same conditions as afore-mentioned, with plenty of drainage!
Some nurseries that sell these plants are:-
Trevena Cross Nursery - situated between Helston and Penzance, for most of the succulents. Lower Kennegy Nursery - at Rosudgeon - for Agaves, Echeverias, Aloes. Hardy Exotics - at Whitecross, near Penzance - for Agaves, Aloes. Mr W. Greenaway at Halabezack Farm, Porkellis for all the cacti.
© 2005 Ian Facey