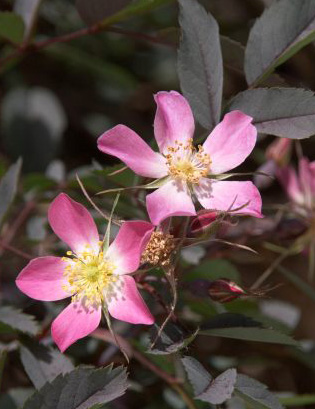 Rosa rubrifolia (formerly Rosa glauca)
Growing Roses in Cornwall
by
Vicki Marshall
Vicki Marshall has gardened since the early 70's in the St Ives area before formally training at Duchy College where she was named 'Plants Person of the year'. Vicki now owns and runs Godolphin Hill Nursery, a 7-acre holding high on the southerly slopes of Godolphin Hill overlooking Mount's Bay. For the last 15 years, she has trialled rose varieties for their suitability for growing in the maritime climate of Cornwall. Vicki has exhibited at many flower shows in the UK and won countless Gold Medal awards for her displays of old-fashioned shrub, rambling and specie roses. As well as running her own nursery, she also runs the plant sales at nearby Godolphin House and Gardens, a privately owned Grade 1 mansion of c1475. Running the nursery, giving talks to garden societies throughout Cornwall, maintaining a good standard in plant sales on the nursery and at Godolphin House together with some consultancy work, keeps Vicki fully occupied but there is always time to give callers some advice if they ask for it. As well as roses, many herbs are grown on the nursery which complement a large and productive organic vegetable garden.
New gardeners to Cornwall are often greeted with a head shake, a sharp sucking in of breath through teeth and the solemn declaration 'You can't grow roses in Cornwall'. Some people may take heed of this and never even try, which is a shame because they are denying themselves some of the most rewarding of garden shrubs in terms of sheer good garden value. Many have beautiful foliage, they are of course among the most fragrant of flowers; many follow this with a spectacular display of autumn hips which can 'hold' on the plant for many months. This is a bonus as the hips are often loved by the birds and I do think as gardeners we have a great responsibility to provide habitats and cater for the needs of wildlife. Indeed, where would we be without the 'birds and the bees!' There is a rose for every situation in the garden , from the smallest in a pot on the patio to giant tree ramblers.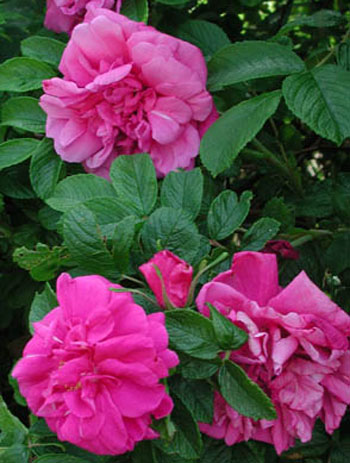 R. rugosa hansa - one of the toughest and best for beside the sea
So, where to start? Well, a good choice would be the rugosa family . Rugosas originate from the coastal regions of Southern Asia and Japan. They are perfectly adapted to enjoy life in Cornwall no matter how near the edge of a cliff you live. They thrive even in a poor sandy soil and are incredibly salt tolerant. I read an article recently written by a lady who lives in Maine. She states '' When you see them in their natural habitat you have to be impressed. You'll be out in the islands, way out there, and you'll see this rocky outcrop where nothing grows but the rugosas. And they flourish. It's so impressive because you know at times those shrubs are completely under salt water.'
Luckily, most of us do not have gardens of those extremes! Even so, it's worthwhile to bear in mind that any of the wide range of garden roses crossed with the wild rugosa will have retained its wild ancestor's toughness.
A good example is Rosa rugosa 'Hansa'. This grows up here on Godolphin Hill , 450 ft above sea level , looking out over Mount's Bay and taking anything the Atlantic gales hurl at it, without so much as a leaf damaged.
Other rose species that are tough and forgiving of 'less than ideal conditions' are the gallicas. We hav'e a gallica 'Complicata' hedge inter-planted with sweet briars( Rosa rubiginosa) and Rosa moschata , the autumn musk rose. From this hedge combination we get the beautiful, large, single 'Complicata' flowers that waft their perfume through the air from early June, followed by the apple-scented flowers and leaves of the sweetbriar through the mid-season and topped off by the exquisitely perfumed, white autumn musk which flowers from the end of the summer right through October. The shining red hips of the sweetbriar then take over the show, lasting well into the winter.
If you have a shady spot in the garden choose one of the alba roses such as alba 'Celeste', the most delicate pink ( all albas have exquisite perfume), or alba 'Maxima', the White Rose of York. Many albas have beautiful grey foliage and autumn hips.
Damasks are a good choice too, like 'Rose de Rescht', said to have been discovered in an old Persian garden. This one repeats well and has ruby red flowers with purple hints and a perfume to bowl you over. It will grow in a container as well as in the ground.
These old fashioned garden roses are very easy to look after. They require little or no pruning. I find the addition of fish, blood and bone beneficial at planting time and an autumn mulching of well-rotted stable manure, if you can get hold of it.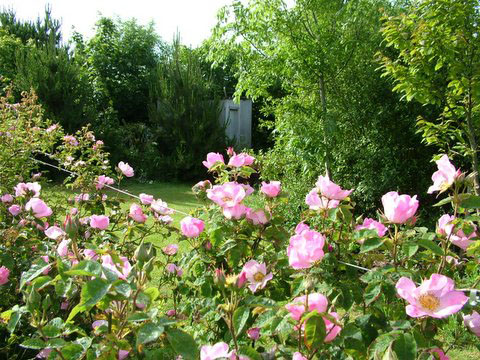 A hedge of R. gallica 'Complicata'
I'd better mention something about climbers and ramblers: people often ask what is the difference between them.
Ramblers usually have a spectacular display of many clusters of small flowers that last for about six to eight weeks. They look after themselves and will scramble over walls, banks, sheds, oil tanks or tree stumps. They have pliable stems that can be woven through trellis, willow arches, fences etc. They are informal, 'cottagey' and very successful in Cornwall as they are undemanding. On the nursery we have them growing through the hedgerows, too numerous to mention but 'Goldfinch', 'Rambling Rector', 'Paul's Himalayan Musk', 'Wedding Day' and 'Bobbie James', always turn heads and definitely have the 'WOW!' factor.
Climbing roses tend to have stiff stems, sometimes thornless, and need training wires so that they can be tied up to a fence or house wall. They tend to have a longer flowering period but with fewer, larger flowers. They need more careful pruning, shelter and a good soil.
A Few Suggestions
For Small Gardens or Containers
'Rose De Meaux', R. gallica 'Officinalis', R.gallica 'Versicolor' (Rosa Mundi), 'Comte de Chambord', 'Jacques Cartier', 'Rose de Rescht', all China roses.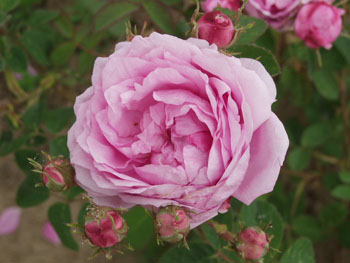 R. centifolia (Cabbage Rose)
For Pot-Pourri
Old roses associate particularly well with with herbs and lavenders and other plants used in the making of pot-pourri. The following dry well and retain their perfume:- 'Belle de Crecy', Rosa gallica 'Officinalis', R. centifolia, 'Souvenir du Dr. Jamain', 'Roseraie de l'Hay'.
Specimen Planting
For something that will really catch the eye and stand out on its own, try:- 'Fantin Latour', 'William Lobb', 'Tuscany Superb', R. moyesii 'Geranium', 'Stanwell Perpetual', 'Mutabilis', R. rubrifolia.
Ground Cover
R.paulii, R.paulii 'Rosea', R. pimpinellifolia 'Dunwich Rose', R.wichuriana.
For coastal areas
try the following rugosas: 'Hansa', 'Blanc Double de Coubert', 'Delicia', 'Frau Dagmar Hastrup', 'Roseraie de l'Hay', 'Scabrosa' and 'Souvenir de Cochet'. The albas, eg. alba 'Maxima', 'Félicité Parmentier', 'Mme Plantier', 'Semi-plena'.
For a north wall try:
,'Mme Alfred Carriere', 'Mermaid' 'Alberic Barbier', 'Felicité et Perpetue', 'Zepherine Drouhin', 'Mme Plantier', 'Leverkeusen'.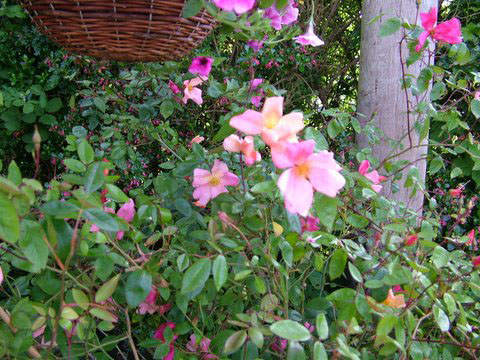 R. chinensis 'Mutabilis'
Sheltered Walls
'Mutabilis', R. banksiae 'Lutea', 'Lamarque'.
For Growing into Trees
You will see many of these growing into our trees and hedges. Make sure you plant well away from tree roots and put in some support to help your rose on its way. Once they get a hold into tree branches, there's no stopping them! Try 'Cecile Brunner' (The Sweetheart Rose), 'Kiftsgate', 'Treasure Trove', 'Paul's Himalayan Musk', 'Bobbie James', 'Wedding Day', 'Rambling Rector'.
Roses with few or no thorns
'Zepherine Drouhin', 'Mme Alfred Carriere', 'Goldfinch, 'Ghislaine de Feligonde', 'Violette', 'Tuscany Superb'.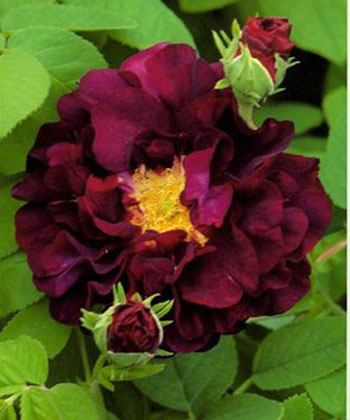 "Tuscany Superb"
If you are tempted to try your hand at growing roses, contact me at Godolphin Hill Nursery, tel. 01736 762124.
E-mail: vicki@godolphinhill.com
© 2006 Vicki Marshall