Gardening for Penwith in 2006
The Council Gardeners' spring report from St Ives
What they're doing, and what you could be doing, now
ST IVES
Here at St Ives and Hayle our nurseries are in full swing preparing for this year's Britain in Bloom competitions. This year St Ives is competing in the National Competition and are also entered in the international Communities in Bloom. At this stage of the year we are busy pricking out young seedlings like Lobelia and Begonias. Later on other seedlings like Marigolds and Busy Lizzies also have to be done. These seedlings are pricked out from their sowing trays and transplanted into boxes of thirty-five.
The compost we use is a general potting compost with reduced peat. We also add our own fertiliser and Perlite to the mix. Perlite is volcanic rock ground up very small: this helps to keep the compost open so that air can get around the roots to help with root development and drainage. When the seedlings are pricked out we make sure they are watered in well. As a rule of thumb we never prick out into dry compost, we always make sure the compost is damp. We ensure that we hold the leaf and not the root which can damage the root system of the plant. Once planted and watered, each tray is labelled – with so many different varieties of plants it is very easy to mix them up! The trays are then placed in a warm greenhouse and allowed to establish themselveds in their new conditions.
After a couple of weeks these will then be moved to a polytunnel and again, two weeks later, they will be moved outside to harden off in a sheltered spot out of the way of harsh winds. At this stage we use slug bait to control the slugs and snails around the plant area. There is a variety of slug bait now which is more environmentally friendly and safe to use around animals and wildlife.
Once hardened off, the bedding plants are planted in various flower beds and gardens around St Ives, Carbis Bay and Hayle. At the present time we are cleaning and disinfecting the polytunnels and flower troughs. This is an essential job to kill off bugs and plant diseases which could threaten to infect the new stock of summer plants.
During the month of May, our hanging baskets and troughs will be planted up and looked after in the nursery until they are ready to put up around the towns of St Ives, Carbis Bay and Hayle.
We are also carrying out extensive work on our bowling greens and other grassed areas. Lawn sand is put down to wake the grass up and to kill the moss which grows there over the winter months. In April, we gently scarify the green to remove the dead moss. The grass is spiked to allow the air to get in around the roots and to help counter compaction. Spring and Summer fertiliser is spread on and grass seed is sown over any bare patches. We spray for weeds, leather jackets and fungal infections as they occur.
Overall this is a very busy time of the year for us – getting ready for a hectic summer season !
Chris Bassett, Head Gardener, St Ives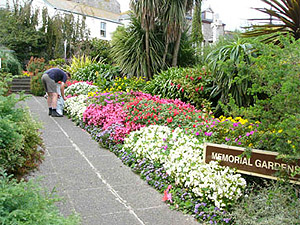 Memorial Gardens, St. Ives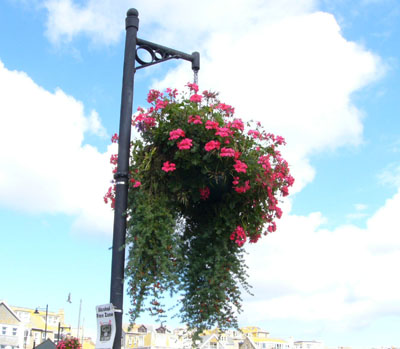 Hanging basket, St Ives