in brief:
Osteospermum
(Dimorphotheca)
Evergreen perennial, semi-woody. Greyish lanceolate leaves, daisy-like flowers. Flowers from late spring to autumn.
History
Most originally came from South Africa.
Varieties
These include: O. barberae (Cape Marguerite), downy leaves, lilac pink flowers; O. compactum, deep pink; O. ecklonis, white petals with blue centres and undersides; O. 'Blue Streak', upright habit, white petals with slate-blue centres; O. 'Cannington Roy', clump-forming, large pink flowers, grey leaves; O. 'Nairobi Purple', deep purple-red flowers, green leaves; O. 'Buttermilk', pale yellow petals shading to white with dark centres.
Where to grow
It forms big banks of flowers that trail pleasantly over walls. Grows well on seafronts.
Cultivation
Osteospermum thrives in warm, sunny locations with well-drained soil. Trim back in autumn, if necessary
Advantages
It provides lots of colour with minimum effort. It's useful for covering banks or filling abandoned rockeries.
Problems
It can get a bit untidy. Not always hardy.
Propagation
Take non-flowering cuttings, in mid-summer.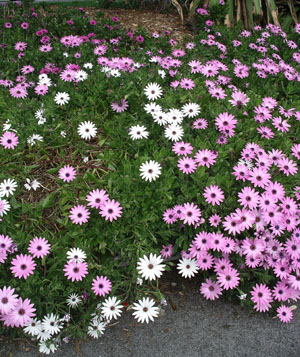 Osteospermum on seafront