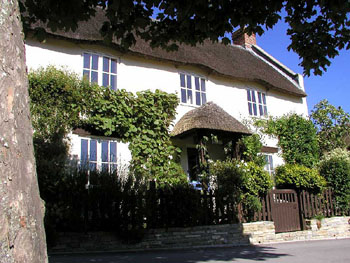 House from front
Gardening by the sea in Purbeck, Dorset
by
John Bickerton
John is a passionate gardener and works from home as a garden designer specialising in coastal gardens. Having trained as a graphic designer and working on many national magazines and more recently for Amateur Gardening and Your Garden magazines as art director, also co-ordinating and designing some of their show gardens at Chelsea Flower Show, Hampton Court Flower Show, Ideal Home, Amateur Gardening Spring Show and the National Amateur Gardening Shows including achieving a Gold Medal at Chelsea '98. John has gardened in the home counties and the on the coast for many years and as well as chairing question times for amateur gardeners he has also been member of the Amateur Gardening advice panel at gardening shows and telephone hotlines.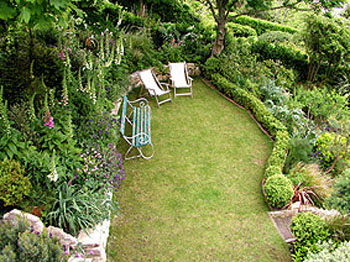 One of the terraces, from above
Who's mad, gardening by the sea?
Well, me for a start, not that I set out to find a garden that would tax my existing plant and gardening knowledge to such an extent, but here I am in Purbeck with a third of an acre garden facing the sea at Lulworth Cove… …I must have been mad – but now I'm mad about gardening by the sea!
Having started gardening at about the age of five when my grandmother showed me how to take a cutting and then being staggered when it rooted and grew into a new plant, I have always been lucky to have found myself in 'easy gardening country' in the home counties: so when we arrived in Lulworth I was in for a bit of a shock. The garden which rises very steeply up Binden Hill behind the Cove has between three and 18 inches of very light soil (if I'm lucky) on top of solid chalk. If that wasn't bad enough the builders had kindly dug it all over with a JCB prior to our arrival! That's without mentioning the weather which brought us cocktail of draught, gales, horizontal rain and a crusting that seemed like the contents of a couple of salt mines. It's been a challenge but now the hard work and research is paying off, as at last the garden is really starting to establish itself and take shape, but I had to learn a few hard truths along the way and here are a few of them…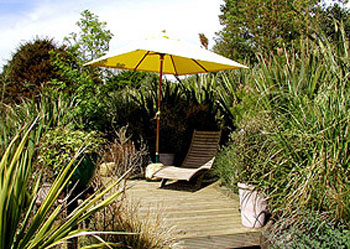 A sheltered corner
Gardening by the sea is a challenge, but a well planned garden, taking all the added wind, salt and sometimes sand problems into account, will make it much easier. Gardens of all types need protection and especially coastal gardens: this can be provided by walls and fences, but more importantly screening belts of sea weather tolerant shrubs and trees. Walls and fences block the wind, assuming they are strong enough, but this causes strong eddies and increased turbulence around them, whereas living screens and hedges do a far more effective job as they filter the wind. These living wind breaks, with careful layout, can form part of and add to the coastal garden look without obscuring valuable views and hence allowing all those less tolerant plants to be grown in their lee.
One big advantage the coastal garden has is the slightly warmer climate in winter so that many less temperature hardy plants are able to thrive that would not survive a few miles inland, so it's important not to waste money on plants bought on impulse just because they look good in the garden centre, or a magazine or TV programme recommend them. You can bet your bottom dollar they weren't thinking of coastal garden conditions at the time, they may well not be equipped for the coastal garden which will result in scorching and blackening of leaf edges and so eventually keeling over and dying. These are a few basic guidelines on what to look for in coastal tolerant plants:
There are hundreds of plants suitable for the coastal garden so have a look at neighbouring gardens and see what grows well or badly, note how much protection the plants require to look good and get advice to help make your own personal plant list. Your garden should be an organic living experience and although the hard landscaping is important for a basic structure, functional necessary or a foil, it is the plants and the planting that makes for a good garden whatever the desired look. Examples of plants' own defences against salt and wind: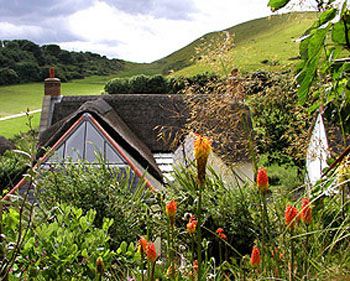 View with back of house
1. Highly glossy foliage: Euonymus japonicus, Griselinia
2. Tough narrow shoots instead of leaves: Spartium junceum (Spanish Broom), Kniphofia (Red Hot Pokers)
3. Sticky gum: Escallonia macrantha, Pinus
4. Stunted growth: Armeria (Thrift), alpine plants
5. Grey foliage: Elaeagnus, Rosemary, Hippophae rhamnoides (Sea Buckthorn)
6. Extra tough skin: Hebes, Phormiums, Yuccas
My garden is on a southwest-facing chalk hillside so I have the added problem that a lot of good coast tolerant plants don't like a strong alkaline soil as well as the fact that it is usually very dry. It can rain all night and by midday you would hardly know. To grow a lot of the lusher plants and shrubs it is necessary to incorporate as much organic matter as possible, or so we are always told – easier said than done as the garden rises from the back of the house by 80 feet and as many steps on six terrace levels! Not that I haven't taken a lot of manure up the garden in the nine years I have developed the garden but it does concentrate the mind on what you plant.
Having said that I have also lifted over 15 tons of Purbeck stone by hand, two or three pieces at a time, to various level to build dry stone terrace retaining walls. I've purposely used very little cement except for safety on steps etc as I like to encourage all types of wildlife and I'm lucky we have slow-worms, grass-snakes, adders and native sand lizards which love to sunbathe on the hot wall surfaces and can instantly scurry away and hide in all the open crevices between the flat laid stones.
Getting back to plants, I've had a lot of hits and misses since I've been developing this garden. Not so much from buying unsuitable varieties but from buying very healthy looking plants which have been grown in a high peat type compost and ideal nursery conditions – it comes as a bit of a shock to them when they eventually find their new home by the sea! Even if I soak the pot in a bucket overnight the high level of lumps of chalk in the soil has this amazing power of sucking every drop of water out from the compost within much the same length of time. The good side to this is that I don't have many problems with growing semi-hardy succulents and other Mediterranean plants that hate prolonged damp associated with coastal areas. Salt and wind have also of course taken their toll of some of these perfect nursery specimens. But I've had a lot of success as well and from what initially looked an uncompromising plot there now has arisen a varied and well stocked garden with a mixture of plants and shrubs that by and large have survived and are now flourishing.
Here are a few suggestions to give your new plants a good start in their new life by the sea.
Provide adequate shelter
prepare the soil well
water plants until established
hose them down if gales cover them in salt
always re¬member that smaller plants will establish better than larger ones
don't plant thorny shrubs (e.g. Sea Buckthorn) next to evergreen leafy plants (e.g. Phormiums) as the thorns will shred the leaves in strong winds
which finally reminds me to say…
…don't forget, on those warm sunny summer days, the winter gales - then go mad about gardening by the sea!
John Bickerton advises on, and designs, gardens adjacent to the sea.
CoastalGardens, tel: 01929 400 239. e-mail: john@coastalgardens.com
Website: www.coastalgardens.com
© 2005 John Bickerton.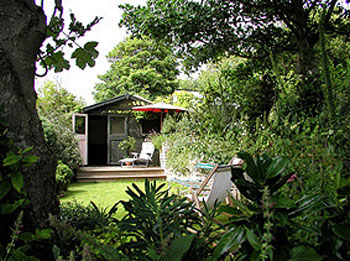 The Office