Colour in the Garden
by
Ken Willcock
The writer has exhibited in horticultural and agricultural shows from a very early age, and still exhibits at all the major shows. The garden was started in 1970 and is still growing: it now extends to nearly five acres. It is full of colour throughout the year, 'unlike many Cornish gardens'. He lectures on horticulture throughout the country.
Foliage for Colour
We can bring colour into the garden with foliage as well as flowers. Take P ittosporum 'Purpureum' with Pittosporum `Warnham Gold' planted close by (see right). It makes a beautiful contrast. Another good planting is `Irene Paterson' and `Tom Thumb' which is ideal for the smaller garden. Here at Ken-Caro Gardens* we. have a large collection of Pittosporums and they give colour all the year round.
Remember architectural plants in the garden, such as the Phormiums which can bring year-round colour. I find them very hardy when grown in good fertile soil, well drained and in full sun. Some of the best varieties are `Veitchianum', with broad, creamy white-striped leaves, `Yellow Wave', a good clump-forming variety with arching yellow and green leaves and `Sundowner' – lovely bronze green leaves with dark rose pink margins. `Dazzler' has arching bronze leaves with red, orange and pink stripes. The Phormiums give colour with their beautiful foliage for twelve months of the year. I find that by dividing them every five years we get better leaf colour.
Daffodils
"Rijnfeld's Early Sensation" was giving colour at Ken-Caro by Christmas and is only now going over. Plant these spring bulbs toward the back of the border then, as they go over, the leaves disappear as other plants take over in the border. For example the Rheum crown is bursting into scarlet as the leaves unfold, so as the daffs die down, the beautiful Rheum leaves begins to cover the ground. The three Rheums we grow are `Ace of Hearts', R. palmatum and R. tanguticum .
Last year I moved some daffodils tazetta `Silver Chimes' around February "in-the-green" and planted them near the Gunnera manicata . Our Gunneras are not in wet ground, but still produce lovely, massive leaves, making them excellent architectural plants for the side of a pool. Bear in mind that they should be kept some six to eight feet off the pool edge or by mid-summer they will cover over the water surface of your pool. As our pool has a liner the daffodils look great in the spring: then the Gunnera leaves cover the daffs after flowering – but this is only possible if it's not a boggy site. I must say that after being moved "in-the-green", the daffodils never look back. Remember to plant them in clumps with large drifts for the best effect.
Camellias
The flowers are giving some colour again after being cut back with the frost we have had of late. When planting a Camellia never plant it too deep: the root ball should be level with the firmed soil. The position can vary, some plants do well in an open site sheltered from cold winds, while others prefer dappled shade. Some Camellias that are doing well at Ken-Caro in an open site are `Anticipation', `Bob Hope', Brigadoon', `Bob's Tinsie', `Spring Festival', `Inspiration' and `Saint Ewe'. In dappled shade we have Camellia japonica `Jury's Yellow', `Margaret Davis', `Betty Sheffield Supreme', `Brushfields Yellow' and `Silver Anniversary'. These are only a few from our large collection which we grow. The flowering season begins in October with Camellia sasanqua `Crimson King', `Bonanza', `Plantation Pink', `Paradise Belinda' and `Sparkling Burgundy'. We have colour from the Camellias for seven or eight months of the year, so it's a long flowering season. The leaves on Camellias are also beautiful as they have such variation in shape.
Heathers
These are a must in any garden. Our winter flowering Ericas have been giving colour for many months. Some visitors recently commented on a few tree heathers like Erica arborea `Alberts Gold' with its beautiful golden foliage. Erica x veitchii `Exeter' bears masses of scented flowers from February to May, then we have Erica australis (Spanish Heath), an erect open shrub with dark green leaves, in flower from early spring to summer with purplish pink flowers. I always cut back my tree heathers when in flower, taking the top off: this keeps them down, to prevent them getting too tall. I get such pleasure from plants which give colour over a long period. But whatever you grow to give colour, enjoy your gardening!
Some nurseries that sell these plants are as follows:-
Trevena Cross Nursery - situated between Helston and Penzance, for most of the succulents. Lower Kennegy Nursery - at Rosudgeon - for Agaves, Echeverias, Aloes. Hardy Exotics - at Whitecross, near Penzance - for Agaves, Aloes. Mr W. Greenaway at Halabezack Farm, Porkellis for all the cacti.
© 2005 Kenneth Willcock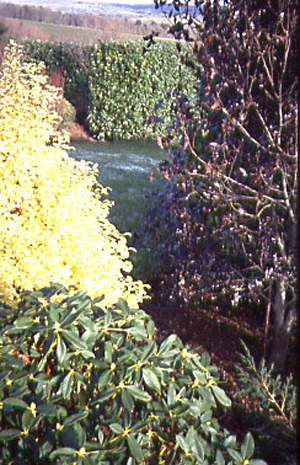 Pittosporums purpureum and "Warnham Gold"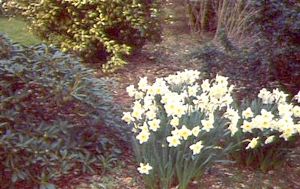 Daffodil "Rijnfeld's Early Sensation"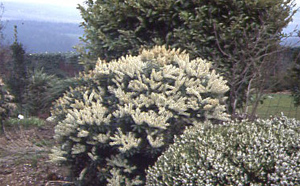 Erica "WT Ratcliff"